The healthy habits to grow your healthy eyelashes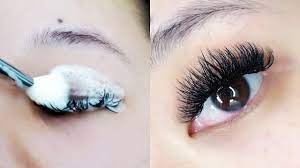 The healthy habits to grow your healthy eyelashes
Do you know the eyelashes like our skin that will lose their fullness over time? Therefore, we need to pay attention to it and need to ask some ways to combat eyelash fall out and ensure our nature lashes stay healthy and viable for beautiful eyelash extensions.
Clean your eyelashes daily and gently
Cleaning our face and removing all traces of makeup before going to bed is a golden rule in our life. But do you know the right steps to ensure this is done correctly?
This is the biggest misunderstanding of cleaning your eyelashes that "the harder you scrub, the cleaner it gets cleaner." On the contrary, being gentle is the key when washing off any eye makeup that you may have. And when you have eyelash extensions, we also recommend that you use an oil-free makeup remover.
The remover is an oil-free makeup remover that removes all traces of makeup without being too harsh on both natural lashes and jeopardizing the bonds of extensions and lash glue. And to achieve the maximum lash cleansing results, you can use the cleansing brush with remover, then apply it over your eye and lash area.
And when you clean your eyelash extensions, you can choose the shampoo of Fadlash. This lash shampoo can wash off all the excess oil and bacteria thoroughly. And it is so super gentle and completely safe for eyes and eyelash extensions.
Finally, clean off any residue by rinsing the eyelids with cold water.
This lash shampoo can be safely used every day on lashes with or without extensions. t keeps your lashes clean and fresh, the rich and soft foam remove excess oil, dust and make-up residue from eyelashes without affecting eyelash extensions.
Throw away the eyelash curler
Using an eyelash curler can harm the natural lash's health, and tugging them too hard may lead to breaking or losing lashes. If you wish to achieve the look of "cured" lashes, you can consider more sustainable options like a lash lift or lash extension instead.
Brush your eyelashes
Brush your lashes daily, which can give them stimulation and strength. This way, you also make them appear longer and prettier, reducing the need for curling and too much mascara.
Form a good habit of a healthy diet 
A healthy diet is not only good for your body but also can produce good results on your eyelashes. Eating healthy is one of the best ways to make sure that we are not having a diet deficiency problem, which can lead to hair loss. Always keep in mind to include food that is rich in fatty acids and proteins as hair needs plenty of these.
Having a set of healthy and thick eyelashes can make someone look entirely different with or without extensions. Not only that, strong and healthy natural eyelashes are the crucial element for achieving long-lasting eyelash extensions.