How to clean lash extensions
Cleaning lashes is a crucial way after applying for lash extensions
When talking about eyelash extension maintenance, keeping lashes clean is very important. However, someone has misunderstood that can't get your lashes wet after you get an extension; they think the water will compromise the integrity of the adhesive, and then you will lose the beautiful lashes. The truth is that recommends daily cleaning can increase the life of the extension.
Why clean your lashes?
Protection our lashes from infection and keep your lash healthy.
The function of eyelashes is to protect your eyes away dust and particles. If our lashes are dirty and the bacteria will start to grow on our lashes, it may cause our eyes and eyelashes to be unhealthy. Over time those bacteria build-up will lead to your eyelids appear red, swollen, or feel sore. And can harm for your natural lashes to cause premature loss. Therefore, washing your lashes is important to maintain your lashes' health.
Make your eyelash extensions last longer.
The best way to maintain lash extensions is to keep them clean. If you don't clean your lashes then they aren't going to last and this is mainly due to oil and skin, dirt, and makeup on your extension will cause premature shedding and can break down the adhesive. Using lash shampoo will keep your lashes clean and fresh that make sure you have the best bond between your natural lash, the adhesive, and the lash extension. This is why it is so important to clean your eyelash daily.
How to clean your lash extensions in the correct way?
It's pretty easy to clean your lashes. All you need is a lash extensions shampoo, which only takes one minute and will keep your lashes last longer. But can keep your lashes last a more long time.
Step 1; prepare a lash shampoo, shampoo brush, and makeup cotton.
Step 2; Use an oil-free lash shampoo or baby cleanser to the lash line. Gently cleanse the lash and eye area, stroking up. Be cautious to not be rough on the extensions, gentle does it. Swirl foam with a clean, soft, fluffy makeup brush then applies gently to lids and through lashes. Gently brush along the lash line and down through the tips to work out any build-up that there might be.
Step 3; with hands full of water from the sink, rinse the cleanser from your eyes and lashes, until there is no soap remaining.
Step 4; once all the cleanser is rinsed out, gently pat dry with makeup cotton tissue.
Step 5; Reshape and style your extensions by eyelash brush through them and be on your way with clean sexy lashes!
About the clean shampoo, we recommend the oil-free shampoo that not only can clean your lashes but also doesn't remove your lash adhesive.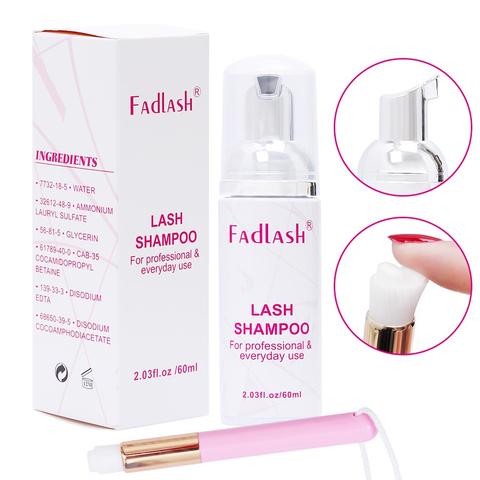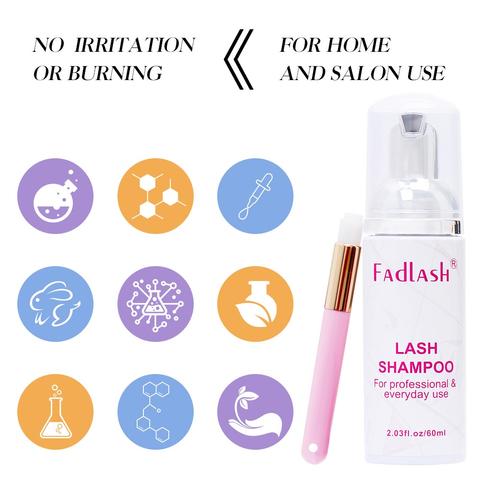 Cleaning lashes is equally important for you to maintain your lashes in between other daily lash aftercare. FYI from "lash lovers": Clean your lashes twice or three times a week if you don't have such issues. Whenever you engage in physical activities like swimming, or gym sessions, you have to clean your lash extensions afterward.