Lash mapping: make eyelash extension more easily.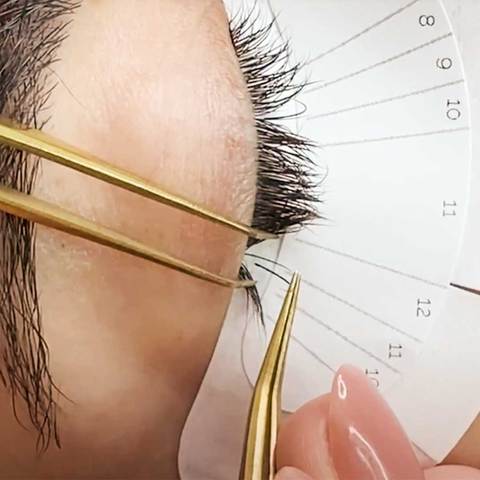 Lash mapping: make eyelash extension more easily.
Lash mapping pay an important role for eyelash artists especially for beginners. Lash mapping can create wonderful looks for your clients.
It keeps very clear when lash artist applying lash extensions, which will guide you set the length and curl of each lash in the right place. Therefore, lash mapping is a great way to explore different effects and let your clients ensure the most satisfying looks. It is also can help you promote your skills.
How to make the lash mapping for our clients?
First, we should prepare some eye pads and pens for it, and you can draw the maps.
Then you should choose what length and curl of the lashes for making maps, and decide the suitable place to put your lashes. About how to choose the lashes, we should be based on our client's eyes shape and we should protect our client's nature eyes safety. And not harm their nature lashes is also important to eyelash extension artists. We should remember that not only give clients pretty appearances but also make the safety of nature eyes and lashes.
First, we should find the center of the client's lash line and draw a vertical line going from that point towards the edge of the pad. The length of the line does not matter. One side of the line will be referred to as the "inner eye," and the other side of the line will be the "outer eye."
Second, divide the line into smaller sections, make sure these lines straight and need a match to the client's eyelashes.
Third, it is time to number the segments based on the client's lash length. Writing from the inner side and finish of the outer lashes, number the right figures inside each segment.
Then you can let your clients lay down and start the eyelash extension application.
Now there are other helpful tips for making your eyelash extensions easily.
As eyelash extension artists, we should understand the uniqueness of every client. Therefore, your eyelashes should be as unique as your hairstyle, so there's no point in looking for a one size fits all solution.
Before beginning the lash mapping application, be sure to consult with your client. See what she wants, but be prepared to offer your own opinions. Longer isn't always better and the style she might want may not look best on her. The client is not always right, and sometimes, he or she may request a look that will not look good on them. In these cases, you will need to compromise.
Avoid going too long with the lash lengths. The first and last set of lashes should be close to the client's natural lash length. Shorter lengths will make your client's lashes look fuller. For most people, 11 mm is the longest lash used, but some clients can use 12 and 13 mm lengths.
To need our client's needs, you can apply eyelash mapping on training mannequins. This way is popular in the eyelash extension industry now.