How to remove lash extension properly?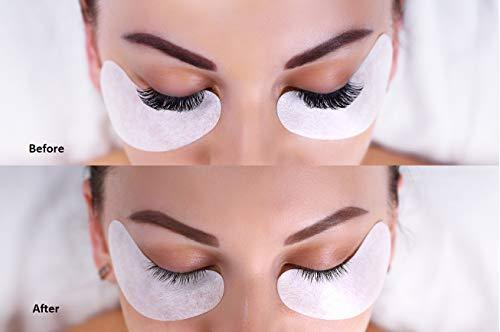 How to remove lash extension properly?
After applying for lash extensions, you not only know how to maintain eyelashes but also need to know how to safely remove eyelash extensions. This week we're talking about how to remove eyelash extension in a correct way.
You need to prepare the following supplies:
eyelash extension glue remover
Eyelash pads
cleansing brushes
Cotton pads
Please remember don't pick or pull at your eyelash extension, that will break your natural eyelashes and hurt your eyes.
Firstly, apply eye pads under your eyes.
We should put eyelash pads on your under-eye area to protect your bottom lashes and skin. Although the lash remover is so safe to use, our skin under the eyes is so sensitive and thin. And we should put the eye pads in the correct place. Not so high to close eyes uncomfortable or so low to not protect your skin.
Secondly, choose remover to remove your eyelash extension.
When it comes to removing eyelash extensions, most of the cautions should be remembered. Please use oil-based makeup remover as an excellent choice. If you don't have one handy, you can try the remover of Fadlash. It's transparent gel, no stimulation. So won't hurt your eyes.Daily use of an oil-based cleanser can help weaken the bonds of the eyelash glue.
Thirdly, remove eyelash extensions
To remover, the eyelash extension, work with the remover and the extensions by coating the extension from base to tip with remover. After a few minutes, you should see the extension begin to easily slide off your client's natural lashes.
It's especially important during this step to be gentle. you are working with adhesive with strength comparable to super glue. Once your extensions have fallen out, be gentle to your natural eyelashes--especially when applying or removing makeup. Harsh pulling at extensions when trying to remove them could accidentally break the natural lashes. Or even prematurely pull them out. This can not only damage your client's lashes immediately but permanently.
Lastly, don't forget to remove the remover and get rid of the eye pads
Once you have successfully removed all of the extensions, thoroughly cleanse around the eye area with some damp, clean sponges or cotton pads. Whatever you feel is going to cleanse the lashes best and won't leave any uncomfortable residue.
And the most important to ensure that you've cleaned the lashes thoroughly before you remove the eye pads and allow your client to open their eyes. If you want to feel more fresh and clean, the lash shampoo is the best lash product I'd like to recommend. This Fadalsh shampoo has rich foam and natural recipe, which don't worry about allergies.
Other cautions need to remember after eyelash extension removal
Always wait before applying more lashes, as the remover is quite oily the new lashes won't be able to bond properly, causing poor retention, if you are doing an infill, and need the odd rogue last removing, use the peeling technique to remove these lashes, rather than reaching for the remover.