10 Questions About Lash Extensions①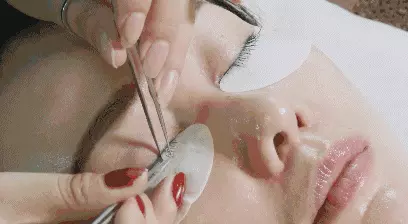 Q1: What is the specific process of grafting eyelashes?
Before applying the eyelashes, the staff will carefully clean each eyelash, and then use the tape to cut the eyelashes and paste it under the eyelashes, mainly to prevent the glue from sticking to the skin. When grafting eyelashes, glue is used to glue the original eyelashes one by one, and finally use a rubber dryer to dry the glue. In addition to the time to wait for the glue to dry, the whole process takes about 1 to 1.5 hours.
Q2: How long can it last for one time?
About 1 to 2 months, about once a month. The grafted eyelashes are sticking to the real eyelashes, so they will fall off with the growth cycle of the eyelashes (about two months). It is normal to drop 3 to 4 per day. Usually, it will fall in half after a month. I have new eyelashes.
Q3: Will it hurt real eyelashes?
A real eyelash is only connected with a false eyelash, and it is OK if it is not "overweight". The most important principle of eyelash extension is: one true eyelash is only one false eyelash. This will not cause true eyelashes to break due to excessive weight. It cannot be directly glued to the root of the eyelashes when it is connected, leaving a distance of about 0.5mm to not stimulate the hair follicles, cause sensitivity, or hinder eyelash growth.
Q4: Mink material or silk lashes? 
Which material should I choose? Either one can be determined according to one's own economic situation and the effect sought. Mink hair belongs to animal hair, which is similar to our own eyelashes, and the effect is more natural. But Fadlash never offer mink material, all Fadlash are cruelty-free and 100% vegan. Silk protein is an artificial fiber, the color will be more black, and the effect is more obvious after the connection. In fact, the material of the eyelashes has little effect on the makeup effect. The most important thing is the technique of the eyelash artist.
Q5: What should I do if the grafted eyelashes are disordered?
Just comb it with your eyelashes. Usually wake up after a night of sleep, after rolling all night, the eyelashes will become a little messy, then you can use the eyelash comb to comb the eyelashes in one direction to restore the original eyelashes. It should be noted that the intensity should be light so that the eyelashes will not be combed off.