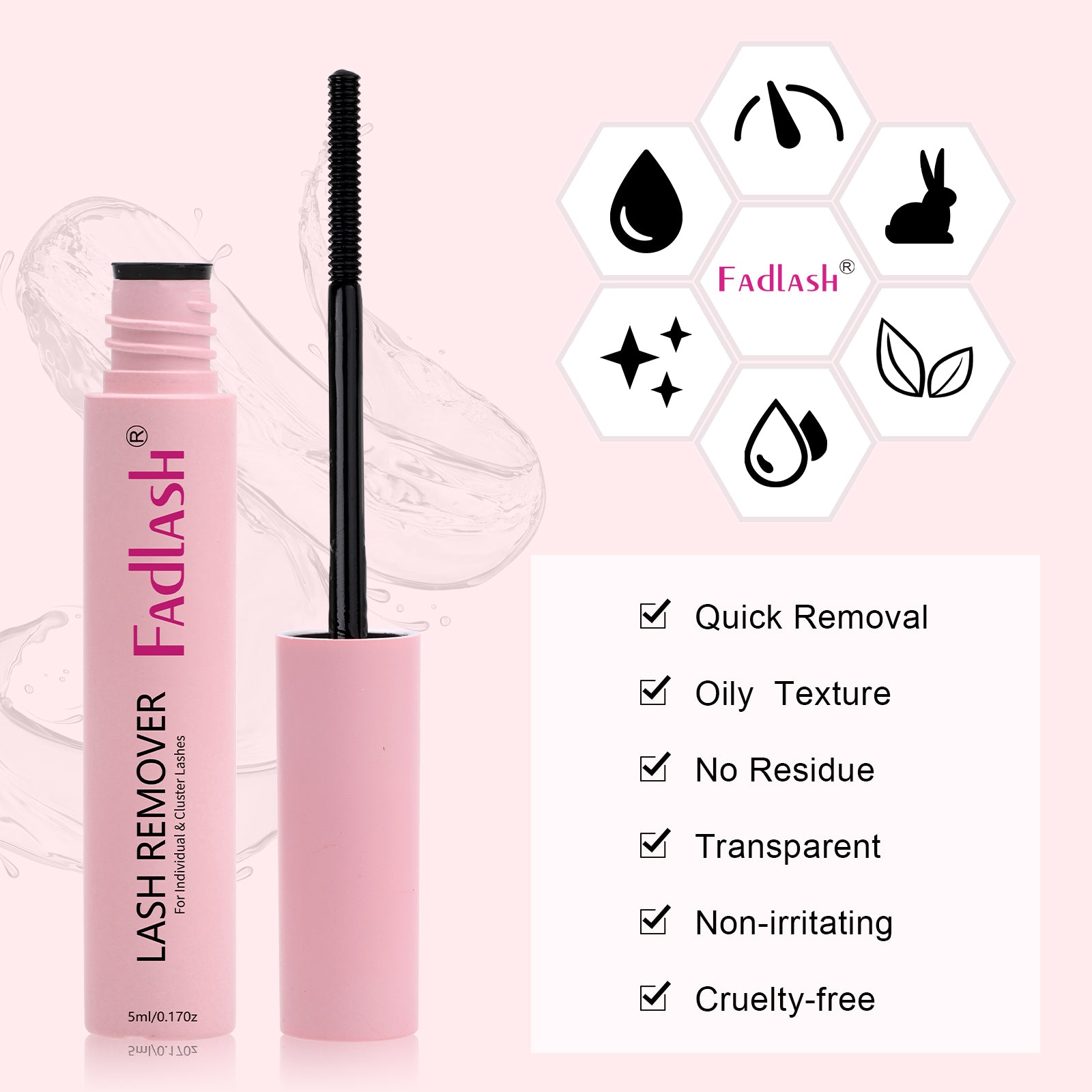 Applying false eyelashes is a great way to finish off fine lashes and eye contours. False eyelashes are applied to the upper lashes using a semi-permanent adhesive. This glue usually contains cyanoacrylate adhesive, which, like superglue, is very difficult to peel off. So, the process of ripping off your lashes should be gentle or else if you are not careful, your real lashes might get ripped off as well. However, you can use a false eyelash glue remover, makeup remover, or other oil to carefully tear off your false eyelashes and remove the residual glue.
Use a false eyelash glue remover
Buy a bottle of false eyelash glue remover
Most false eyelashes come with glue attached, but they don't usually come with glue remover. However, you can find FADLASH glue remover in our store, which come with gentle formula and friend to sensitive skin. Always make sure that you are not allergic to any of the elements.
Remove eye makeup
It's a good idea to remove your eye makeup before using a false eyelash adhesive remover, as eyelid makeup can make it harder to remove your false lashes. Use a makeup remover or baby lotion to gently remove eye makeup. Pour some makeup remover on a cotton pad and rub your eyes until most of the eye makeup is removed.
If you're wearing smoky makeup, don't try to remove it at this point. This tends to tear false eyelashes and make your eyelids feel uncomfortable.
Don't use soap to clean your face and eye makeup because it can damage both your real and false lashes.
Pour some fake eyelash adhesive cleaner on a cotton swab.
Keep a mirror in front of you and take out the false eyelash cleaner and the cotton swab. Pour a small amount of the cleaner on the cotton swab and wet the cotton pad completely.
Apply the cleaner to the false eyelashes
Gently rub the bottom line of your lashes with the cleaner-soaked cotton swab. Brush the base of the false lashes several times with the swab to remove as much adhesive as possible. Do this on both eyes and wait 20-30 seconds.
Rip off the false lashes
You can tear off the false lashes by hand if you plan to throw them away. If you want to keep the false lashes for another time, use tweezers to remove them. Pinch the false lashes as close to your eye as possible and start at the inner corner of your eye. Gently pull upwards to remove them from your eyelid. They should come off easily; if they still feel tight when you tear them, apply a little more cleaner and wait 30 seconds before trying again.
Remove the adhesive residue
Lower your false lashes and give your eyelids a good inspection. This is because there is likely to be residual glue still on your eyeliner that needs to be removed. You can apply more fake eyelash adhesive cleaner to a cotton swab and rub it on the residue. Then, use a dry cotton swab to gently wipe away the glue residue and clean up your eyelids. Finish the process by washing your face with a little warm water.