How to Choose Cluster Lashes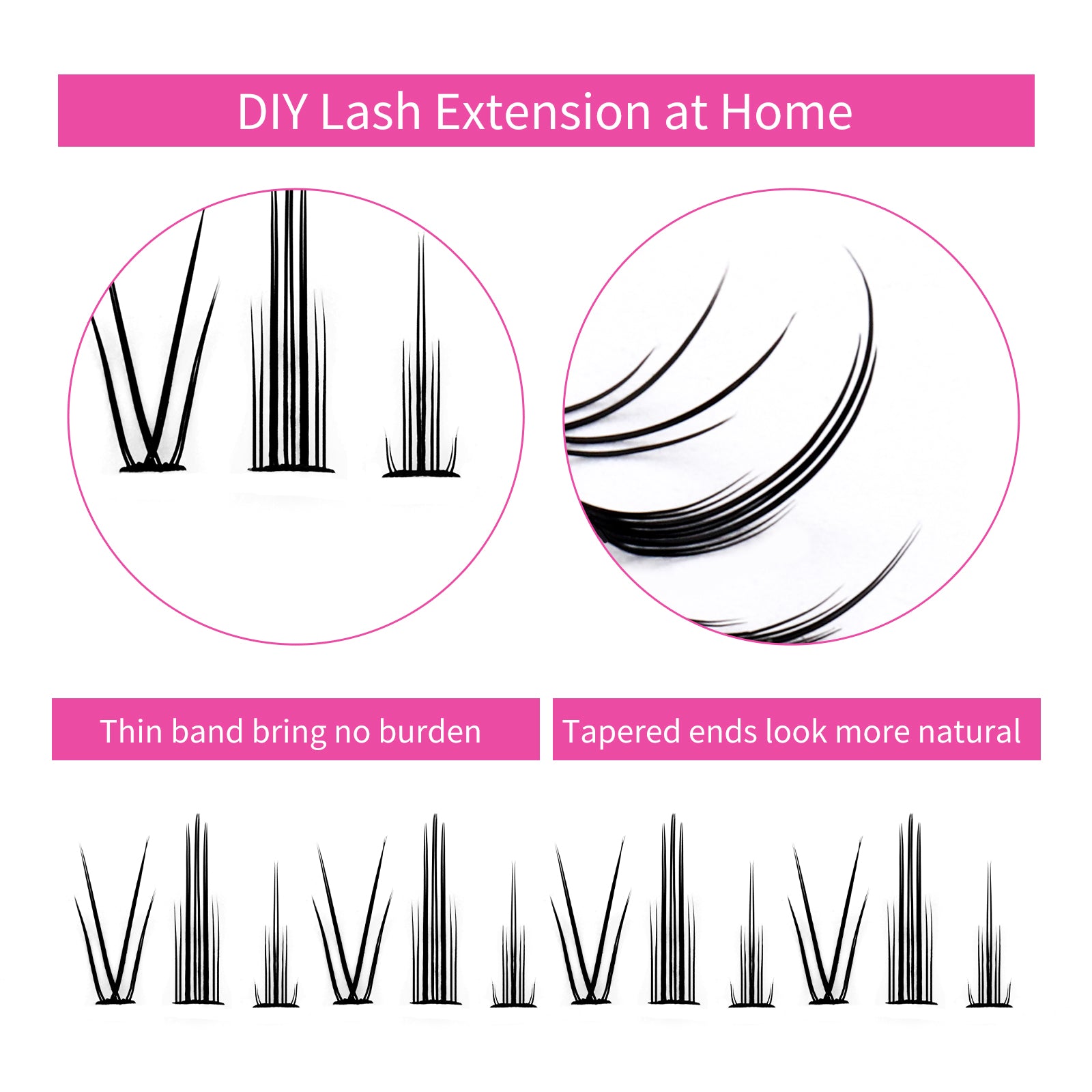 Common Single Cluster False Eyelashes
In fact, the initial single cluster false eyelash types are not so much, the choice is relatively limited, but in the past two years is really fancy, no matter thick makeup or light makeup basically can find the right one from it.
I chose a few of the more popular and common types on the market now, to give you an eye show, in order to effect a more intuitive, so only painted a light eye shadow and eyeliner, but in daily life you still need to pay attention to eye makeup with!
A type fairy false eyelashes
A type fairy hair itself is still a strong sense of presence, the upper eye has a sense of caricature, not only can be individually paste, but also with other lashes combined together. However, among the many single-cluster false eyelashes, the coefficient of operation of A-type hairs is relatively high.
Because it is a combination of multiple lashes together, the bottom into a radial shape, no stalk, so when applying, the force area is smaller, it is not so good control . But if this kind of false eyelashes can be pasted well, then the other players can basically take it! The paste method is still in accordance with the steps we said earlier on, but remember that this kind of eyelashes in the dip glue, don't let it below a few stick together, always keep the radial shape in order to paste firmly.
Fishtail Lashes
For those who are looking for a natural look, check out the fishtail lashes! It is the distribution of the two sides of the long center short, the whole is very thin, very close to the state of our native eyelashes, even if it is a light nude makeup can also be managed, and it is the root of the stalk to do just right, not only easy to stick up, on the eye is not exaggerated makeup. Fishtail lashes and A-hairs can also be used together, so that the effect will come out more highlights.
Sandwich Lashes
Sandwich lashes are in a sense a combination of the fishtail & A-shaped fairy lashes we mentioned above. However, it is important to be careful when taking it with tweezers, as the sandwiched part may fall apart, so the technique must be fast. Sandwich hair has a good effect on enlarging the eyes, and the overall makeup is dense, so you can match it with some eye makeup that has a strong sense of presence.
Devil Lashes
This is the most popular among all types of cluster lashes. Friendly to those who are new to apply DIY lashes. It is matched with a small cluster of short hairs next to each long one, so that the eyelashes that are pasted out have a sense of hierarchy and are good at grasping the spacing distance.
This kind of false eyelashes on the eyes after the effect is still quite natural, there is a sense of presence but not so thick, because the hair itself made more slender, so with the daily hanging eye makeup is perfect.