Can I wear makeup with eyelash extensions?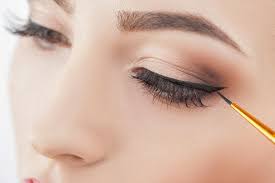 Can I wear makeup with eyelash extensions?
Many people have confused about can I wear makeup with eyelash extension? The answer is yes, of course! But there are some things you need to pay attention to.
So, what are the rules for wearing makeup with eyelash extensions without damaging them? We have prepared a listing of those to make sure you can enjoy wearing your extensions and your makeup too!
First: avoid oil-based products.
It is well-known that eyelash extensions are sensitive to oil. The oil-based products around your eyes can damage the eyelash extensions glue to break down and cause your lashes to fall out prematurely. Therefore, we recommend using oil-free skin care and oil-free makeup around your eye area.
Second: avoid waterproof products.
The issue with waterproof makeup is that it's impossible to remove without using an oil-based product. And we want to avoid oil-based products at all costs. The oil will disturb the lash adhesive and cause a premature falling out of your extensions!  
Third: avoid pulling or tugging your lashes.
Whether you're applying or removing your makeup, please be gentle around the eye area. You need to avoid tugging or pulling on your lashes as this can weaken the bond and cause your lashes to fall out earlier. 
About the mascara:
Can I put the mascara on my eyelash extensions?
It is possible. But you need to know that if you wearing mascara on eyelash extensions can jeopardize the life of the extensions if you're not careful. Once you have your full, lush lashes, you won't need to wear mascara as they naturally make your eyes pop. However, if you do want to wear mascara, apply it to your bottom lashes first – you may find that's all you need. If you still want more, we recommend using oil-free mascara.
About the eyeliner:
Can I use the eyeliner with eyelash extensions?
To be honest, you don't use the eyeliner when you have applied for the eyelash extensions as this has created a beautiful eyeliner effect on the lashes line. However, if you keep using it, we also suggest water-proof and oil-free products.
When removing the eyeliner, it is best to clean with a lint-free cotton swab soaked in makeup remover. Make sure the cotton swab doesn't rub or touch the lash extensions too much.
Clean your eyelash extension daily and safely remove makeup products.
And please remember to wash your lash extensions every 2-3 days with a lash cleanser. It keeps lashes clean and healthy without compromising the eyelash extension bond. We've said it once and we'll say it one more time - avoid oil at all costs. Be super gentle when removing your makeup - we recommend using an oil-free makeup wipe, followed by a super gentle cleansing routine. 
And also please remember this tip that throws away the lash curler.
Eyelash extensions have a pretty curl already so you don't need to use a lash curler. Lash curlers can cause unnecessary tugging on your extensions - which we don't want!
Embrace a simple makeup routine and throw away the lash curler.